A friend from Shanghai just returned from Yangshuo one of the most enchanted areas on the planet. He told me he had met Chun Li on New Years Eve and while impressed with her as a powerful, positive person he did not know her history until I sent him this link from months ago…..Time to re-post it then, I think:
Then I first heard of Zhao Chun Li, I didn't know what the fuss was all about. I had been told that she had brittle bone disease (OI) and was working at the Yangshuo Mountain Retreat as the Front Desk Supervisor. I thought to myself, Yes, this is a great story about overcoming adversity. And spectacular that she's capable of working in a business setting. But, I cynically considered optioning the story and selling it to Hallmark.
But as I learned more about this woman, born on Christmas Day, I soberly realized just how startlingly powerful her story really was.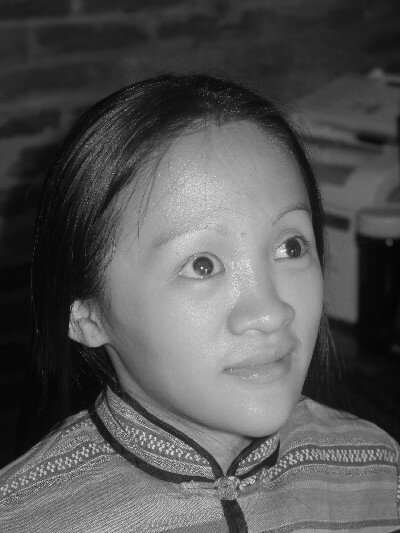 Chun Li's message lies in the details. That Chun Li (Spring Beauty in Chinese) knows how to speak and write in perfect Mandarin is was somewhat interesting. That she was not able to walk to school because of fragile, easily broken bones and later taught herself to read and write Chinese sparked interest. And that years later, having never left her small fishing village in Guanxi, China, she would teach herself English with a little help from Chris Barclay (the man who founded ALTEC and The China-U.S. Medical Foundation) starts to spin a gripping tale of courage.
China can be an unfriendly place for people with hadicaps: they often are not allowed to attend school and are often left out of the mainstream of society. Because of cultural differences, Barclay did met Chun Li while acting as an interpreter for President Clinton's visit to her home town a few years back. Chun Li had been ordered to stay shut in so Clinton would get a idyllic picture of life in rural China: a vision free of medically challenged villagers. Clinton later learned of Chun Li's confinement and sent her a letter and autographed picture which she proudly displays at the retreat.
Chun Li's first journey outside her village was to Los Angeles: When Chun needed medical evaluation and surgery—the kind of evaluation that a Western hospital could provide—Chris Barclay stepped in and raised the funds to allow Chun Li to travel to Children's Hospital of Los Angeles. Chun Li, braved the transcontinental journey, underwent surgery for a painful cataract, and returned to China. She is virtually self-sufficient: though she requires her mother's help on a daily basis for some simple tasks, she supports herself with her income from working at the Yangshuo Mountain Retreat. She was the inspiration for the building of the retreat and a personal transformation by Barclay that he is chronicling in an upcoming book about Chun Li called Frog in the Well: The Tao of Possibility.
The Mountain Retreat at Yangshuo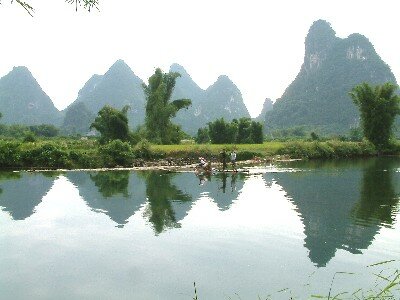 With the spirit of Chun Li's optimism and strength guiding him, Chris Barclay had a new vision—he knew he could help needy children, young men and women get treatment for their condition by setting up a charity to help collect and organize financial and educational support. In 2002, he created the China-US Medical Foundation, and to this date, the charity has helped dozens of children of glass get the medicine, medical diagnosis, and surgery they were denied at the time in China. None of this would be possible without the dedication of Barclay and the vigor of Chun Li.
In the end, I've realized Chun Li's story isn't meant to be a tearjerker. It's a courage-jerker—drawing on the best in her and calling out strength in the people around her, summoning reserves that make a world a better place. Instead of walking away from Chun Li's story with a feel-good, TV moment, I walked away with a story about how the power of optimism, as exemplified by our Spring Beauty, and the Tao of possibility that can forever change people's lives.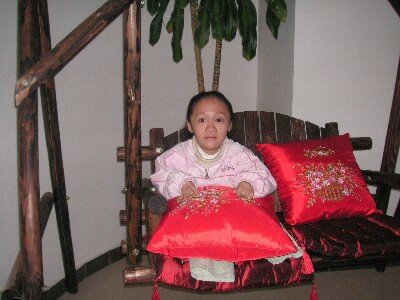 Chun Li at the Mountain Retreat where visitors from around the world have come to love and admire her, not for her conquest of OI, but for her extraordinary wisdom and positive nature.
By David DeGeest with Lonnie Hodge
Asia
,
China Editorials
,
China Photos
,
China-US Medical Foundation
,
Confucius Slept Here
,
Intercultural Issues
,
The League of Extraordinary Chinese Women
,
Yangshuo China
,
中国
7 responses so far