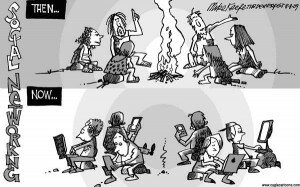 There were "Nine Black Categories" during the Cultural Revolution: Landlords, rich farmers, anti-revolutionaries, bad influences (the catch-all available in any culture), right-wingers, traitors, spies, capitalist roaders and lastly, intellectuals—scholars have been last, or next to last in Chinese caste hierarchies since the Yuan dynasty where they were only slightly better regarded: They were ninth in the caste order and beggars ranked tenth. But, I digress…
Chinese revolutionaries might have hated Twitter and other social media even more than the PRC central government does now because in the often quoted words of W.B.Yeats: "The best lack all conviction while the worst are full of passionate intensity."
A card game, called Beat the Landlord, game grew out of this cultural conflict: Dou Di Zhu– (literally fight the landlord) and continues to be wildly popular on the Internet here with millions of players. The game allows two "bandits" to gang up on one "landlord" in an attempt to allow his partner player to divest himself cards and win. The landlord does not often fare well. I have grown weary of a few Internet landlords and short of beating on them I have just opted to delete them from view.
Social Media has been a digital gift from the heavens for me. I have been active on the web in one form or another since 1978. Social Media as I knew it then worked well because the conference moderators insisted we divest ourselves of titles and station and work on tasks that benefited the community as a whole.
I was playing Scrabble online with a social media "influencer" a year or so ago and we were both updating our experience as we battled. Suddenly he told me that he had to stop clogging his tweet stream with game details as he had lost followers during our contest. His reason for being on networks was clearly different than mine. I have used blogs and networks for years as a way to make and maintain friends. And as a result I have met In Real Life (IRL) dozens of people that were first introduced to me only as avatars, long lines of updates, shared pictures, music selections, videos or blog posts. It has been magical. And on my recent trip back to the States I revisited "old" Internet friends (some I had known for 7-10 years without ever meeting in the flesh) and I sought many I had not met, but for whom I had developed a special affinity. I found them to be even more gracious, kind and fun than their 140 character at a time persona allowed for online.
I use Twitter and Facebook in place of an RSS feed now and revel in new information about cultures, conflicts, charities and ways to improve my quality of life and that of others. I am pro revolution and pro profit as long as there is truth in the advertising…
But, of late I have noticed a disturbing trend. Sites like Quora, and Twitter have given credence to digital landlords, anti-revolutionary government and corporate eavesdroppers, rich corporations looking to speak to trends as opposed to consumers, link baiting spam laden roaders and those that inherited social wealth by association or early adoption who now look to dictate the set, setting and content of our conversations and want to make more money telling me how I can do it too. They act as landlords and exclude or attempt to evict those with differing views or too little to offer them as they extend their tweetreach or make their personal brands more recognizable.  And many of them display far from exemplary conduct as they write the leases that we aspiring digerati will tacitly sign in order to get along with them hoping to be included or for fear of being vilified, or worse, cast into the darkness of less social cyberspace.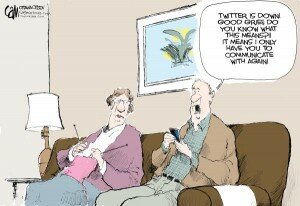 I once asked the author of several books and hundreds of articles to "retweet" (broadcast again) a status update of mine wherein I listed the URL  of a U.S. sanctioned charity helping flood victims in China. I was told in seconds that under no circumstances would he jeopardize his social capital by assisting an unpopular cause. People were not happy with China. Lions 2, Chinese 0. "The best lack all conviction…"
Two gurus in Hong Kong refuse to add their name to any charitable cause not self organized because of its possible negative impact on their branding.  One of them actually refuses to pay admission to Internet supported charity affairs because his presence alone has value. His has a lot of social capital, earned by gossiping about others and devaluating their currency, though I wonder how many friends he'd have if he socially sobered up and put principles before his own personality.
Another Internet luminary recently assaulted a well-followed China Twitter user and lambasted him, among many things, for using a pseudonym and for not being in what the communication constable construed to be viable social media circles and for artificially growing his Twitter following. What he did not know is: the monicker is his court appointed name and the man he citizen arrested (with not a little police brutality and great fanfare involved), or rather the criminal in question, has secretly helped fund out of his own pocket important TEDx and intercultural social events that would otherwise not have happened.  I neither know, nor care, how he amassed a huge audience. Ironically, the cybercop in this episode of Social Media's Most Wanted was concomitantly announcing to the world via his updates how proud he was that answers he offered on Quora were being voted to the top of listings. Now there is a real resume builder. This is the same man who incidentally told me, a former EOD trained Ordnance Officer in the Army, that I was wrong about what weapons were in use during my time in service when the closest he has ever come to the military is a Tom Clancy novel. This is a man who tirelessly works online to build his personal brand as an intellectual and contrary to most things. "…while the worst are full of passionate intensity."
And last, but not least in my not nearly exhaustive (maybe exhausting) rant is the visit by two writers for a brand name commercial financial rag. Their boss called with a day's notice and asked if I would host them on their first trip into South China. I have done this for many journalists and business people. The heavy lifting is usually done by bright and self effacing volunteers from the local community who translate and accompany them to parts of Guangzhou, as a favor, that newcomers might never otherwise see. "In your life, you meet people. Some you never think about again. Some, you wonder what happened to them. There are some that you wonder if they ever think about you. And then there are some you wish you never had to think about again. But you do." These two were hosted for meals in a restaurant that stayed open just to be kind to them,  given true visiting royalty status and then left only to write a blog post later that never mentioned the volunteers or kindness showed them, but instead only remarking about how filthy the air was in our city.The two poison ivy league graduates from well heeled families left several young students in Guangzhou wondering if our privileged company knew the difference between engagement and entitlement.
It is about conversation, not adulation. It is about earning relationships, not winning or displaying stinking badges. It is about dissolving boundaries, not drawing yourself into some inner circle. It is about traveling the hills and valleys of the bell curve, not cowering in the far end with only folks with similar statistics in some strange social equation. It is , for me, about trying (and sometimes succeeding in spite of myself) to do something good even if I have to panhandle…
There are no "Seven Keys to Internet Success." There is one:
Be authentic
And while you are being authentic, if you can find the time to do a #randomactofkindness just do it.  Turn a couple of #hashtags into ploughshares.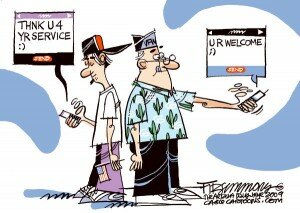 And I try to remember that there is usually are real people and dear friends at the other end of my updates. And I believe that if had to belong to one of social media's black categories I'd likely shoot for scholarship or refine being a beggar…
"God, grant me the Senility to forget the people I never liked anyway, the good fortune to run into the ones I do, and the eyesight to tell the difference"
Charity in China
,
China Business
,
China Business Consultant
,
China Editorials
,
China Expat
,
Cross Cultural Training
,
Human Rights
,
Intercultural Issues
,
Personal Notes
,
social media
,
The Internet
,
中国