"There are quantities of human faces, but there are many more faces, for each person has several."
Ranier Maria Rilke
I once substituted  as lecturer for a Classics course in a Chinese Ivy League school. The beloved Harvard educated Chinese professor could not teach that term because of medical issues.  I entered the classroom as an unknown entity. Students at the University were used to "Waijiao"  (Foreign Teachers or literally Outside Teachers) with little or no experience being put into their classrooms more for the color of their skin or country of origin than for the their knowledge of the subject to be taught. After a brief run through the ambitious syllabus foisted on me I asked the class if there were any questions. One young man in the back of the room angrily asked: "What qualifies you to teach at this institution?" His question neither offended nor surprised me.
I knew a little of the history of this class and their previous foreign faculty members: one, in his sixties, had recently been asked to resign as a result of relational improprieties and another, also in his sixties, was dating three different young women at once (uknown to the others)  while living with another on campus. Neither teacher had a degree in English nor much of a cultural grasp of China beyond a singular fondness for young Chinese girls. Sadly, this breed of foreign expert had been the norm at that school for many years.
I calmly explained that I had been at on time, before my travel to China, a "real teacher" with a real desire to see them come to love and understand literature as much as I had during my graduate education. I told them that my credentials, awards, and publishing credits more than qualified me for undergraduate lecturing. I stress that  during my program I was taught by mentors and visiting lecturers in my program who had won every award from the National Book award to the TS Elliot Prize to the Nobel, to…But academic window dressing would only have meaning if by the end of the term they had come, to paraphrase Rilke, to enjoy literature more and more, and became more and more grateful, and somehow better and simpler in vision, and deeper their faith in life, and happier and greater in the way they lived and were able to appreciate the power of the written word as it has influenced millions over the decades.
Richard, the young man above, was the class antagonist the entire term: He became my favorite student by way of his challenges and lust for knowledge and academic integrity in his learning. He will graduate from Columbia this year and he still intellectually wrestles with me when I post something questionable on Facebook or other social networks where we remain connected.
Most new teachers in China will not have such good luck. They will not have vocal students (another post will discuss why they are silent and it is not for lack of opinion or ability) who will educate them about how they are perceived nor will they be lucky enough to teach top students much more than oral English idioms in a class better suited for elementary aged pupils.
Know this:
You are a foreigner and many round eyes and white faces have preceded you. Some have done their job well, most have not.
It is your responsibility to acculturate, not theirs.
Learn your students Chinese names and something of their background.
Be patient with yourself and your students.*
Know that the students have already spoken, and likely written on school boards, about you. Ask them individually how to improve their learning experience. They will tell you though not always with the grace and tact you might like. Do not be surprised to be told, if you open yourself to feedback, that you are short, fat, old, wrinkled or speak too fast, slow, too much or too little to them.
Know that the Chinese staff knows little or nothing about you and may not bother to take much time to engage you: you are a transient in their life of endless meetings, regulations, low pay, long hours and mandated curriculum. They may think you less prepared culturally and academically than their Chinese colleagues.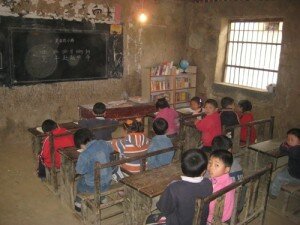 There are three exercises I use in almost every class to bring each student, and consequently China, into better focus:
I take time away from regular studies to have each student write their name in Chinese on the board and describe each element and character in the name. I ask them to include the historical meaning of the name, who gave it to them and why. Att the same time I ask them not to use an English name in my class in order that I might learn their real names and the identities behind each one. This term, Purple Heart, Handsome Horse, Ms Poetry and Beautiful Phoenix are a few of the student names I will never ever forget–where I might not remember the faces or stories of Chloe, Vince or Sophie. And the stories behind the names have been worth a thousand Chinese culture classes as I have learned about Feng Shui from those whose names were chosen for luck by a soothsayer or master, enjoyed tales about entire villages with a common middle or last names, and shared in the hopes and dreams of parents who chose Chinese name characters hoping their meaning would influence the futures of their children by association or divine intervention.
I interview each student in many classes and ask them simple questions about the wishes, lies and dreams in their educational lives. I have come to know real people, not numbers, faces or acquired names. And the fear that once separated us has often dissolved and been replaced by lasting respect and I have been able to honor and stretch their boundaries. And they become as uncomfortable with the term Waijiao as I do because, while always an outsider, I am on the periphery with love and appreciation and a sincere desire to see them succeed:  "I hold this to be the highest task for a bond between two people: that each protects the solitude of the other"
The first ten minutes of any class is devoted to school, local, regional and national news. This keeps me informed about things I would never otherwise know, helps with language acquisition, and tells me culturally what is important to them and why. Politics and religion are forbidden discussion topics, but  feelings about sports, war, earthquakes, and even movies or television star scandals will inform about China you in ways you never dreamed possible. Students learn that I am not the America they condemn because of the reader-baiting bias of a CNN or other media source and I re-discover that they are not the perpetrators of the rules and ideologies by which the west defines China.
Becoming a teacher in China is more than lessons in language if you have respect, and most of all, patience:"… there is no measuring with time, a year doesn't matter, and ten years are nothing. Being a [ teacher] means: not numbering and counting, but ripening like a tree, which doesn't force its sap, and stands confidently in the storms of spring, not afraid that afterward summer may not come. It does come. But it comes only to those who are patient, who are there as if eternity lay before them, so unconcernedly silent and vast. I learn it every day of my life, learn it with pain I am grateful for: patience is everything!"
American Professor in China
,
China Blog
,
China Business Consultant
,
China Editorials
,
China Expat
,
Chinese Education
,
Confucius Slept Here
,
Cross Cultural Training
,
Education in China
,
Intercultural Issues
,
New Oriental
,
Personal Notes
,
Teaching in China