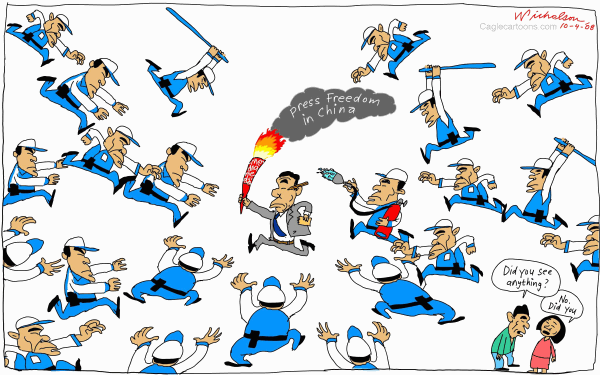 Four years ago I befriended a Vietnam veteran who was clean and sober after years of Cocaine addiction. He was one of the hardest working and congenial men I'd met at the VA hospital. He was employed in a minimum wage rehab program where he pushed wheelchair bound patients to and from appointments.
He had his own apartment in a declining and dangerous section of Chicago and custody of twin boys. It was like a sad scene from a predictable Hollywood tragedy when two young gang members approached one of the twins at his home. One of the gang members shot the young man, an top African-American student with college ambitions, in the head. They had intended to murder the other sibling who was who was less inclined to social conformity.
When my friend went to the police with information on the possible killers he was turned away in an angry exchange that ended when the white policeman told him that he would lock him up. When asked for what reason the officer replied, "I don't need a fucking reason, boy. Since 9-11 it has been one long year of the cop." He was right: Law enforcement was, overnight, accorded special privileges and many did not do well with the responsibility and instead used it as a personal weapon in their own private wars. My buddy finally found someone who would take him seriously and the killer was jailed when a plea bargain let the accomplice go free in exchange for his testimony. The veteran, demoralized by the struggle and grieving, relapsed into depression and drug use.
The same is happening here in China. A friend came to me after being detained and beaten by local police. Local constables now have the right to ask for your passport and visa on the spot. Those that have not carried their papers up to now, have started…The police have used it as a way to intimidate local Africans (blacks have an especially tough time maintaining work and cultural relationships here due to rampant racism) and Muslims. Some area police are extracting protection monies from Africans and calling it an immigration fee assessment.
When my friend pulled out his cell phone to answer a text from his wife, wondering where he was so late at night, the police who had been manhandling his countryman, thought he was snapping pictures of the assault. That is when they gave him a dose of the same treatment. His countryman was detained past his scheduled departure out of the city and missed his plane back to Africa.
With sudden power arbitrarily given to street cops, the heat hanging in the 90s along with similar humidity levels, and increasing paranoia over possible security threats it is tense here.
Below is a Youtube video of a scuffle in Beijing that left police and reporters injured. People hoping to get the last remaining tickets for the games spent two days in the heat and in unruly, close-quarter lines that we who live here can barely tolerate for a short time on a good day.
Some are calling it infringement on freedom of the press and chastising Beijing for not making good on its promise to allow reporters unfettered access to stories in and around the Olympics. I tend to see it as a lack of preparation for the enormous crowds and throngs of media personnel. Defects in crowd and traffic management planning have paralyzed the city more than once in the last few weeks.
The games have already begun, but outside the stadium.
The original story here at the ever vigilant Shanghaiist:
HK reporter and cameraman taken away after Olympic ticketing kerffufle
AJ report on Beijing:

Beijing Olympics
,
Censorship
,
China Editorials
,
China Law
,
China Olympics
,
China Sports
,
Chinese Media
,
Hong Kong
,
Human Rights China
,
In the news
,
Intercultural Issues
,
The Great Firewall
,
Videos
,
Vietnam
,
Violence
,
中国