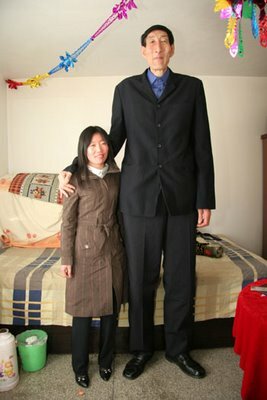 Air China flights from Tokyo to cities near the birthplace of the world's tallest man Bao Xishun, also known as Xi Shun or "The Mast" (Simplified: 鲍喜顺; Traditional: 鮑喜順) born in 1951, are booked for the next three months in light of a recent discovery by barfoot doctors in the area.
Comissioned by the Chinese Olympic Committee to find undetectable growth substances to give to baketball and high-jump athletes they instead found a blocking agent for the genes known to breed shortness.
Several years too late for me–I stand at 170 cm–the substance causing the stir, Obecalp-A, is made from distilled Miongolian sheep bile. It is expected to recieve governmental approval in Japan even faster than did Tamilflu or Viagra.
Shortly, after Mongolian herdsman Xi Shun made news, the hunt was on for the reason he grew so tall. Bao Xishun claims to have been of normal height until he was 16 when he experienced a growth spurt that resulted in his present height seven years later. "Who would have thought it was the sheep?" said Xi Shun's new wife. She hopes to pass six feet next year by taking the supplement.
There is already a huge underground market for the extract which is being called "Woolhite" in back alley pharmaceutical shops. Hong Kong authorities have already seized 330 million HK Dollars worth of the drug headed overseas and warn that side effects of poor production can include aimless wandering, sleep disorders, and uncontrolled bleating.
(Thanks for allowing a repeat post…)
april fools joke
,
Asia
,
Asian Humor
,
China Olympics
,
China Photos
,
China Sports
,
Chinese Medicine
,
Humor
,
In the news
,
Japan
,
Just Plain Strange
,
Personal Notes
,
Photos
,
Weird China
,
中国