In the 1970's I was tasked by the military to teach medics the stages of grief written about and popularized by Elizabeth Kubler Ross. Disbelief, Anger, Denial and Acceptance are all part and parcel of loss and Ross gave us a viable way to understand emotions in confusing circumstances. Some counselors and friends through the years have used them as a way to help mourners and disease sufferers cope as they journey through tragedy. But, sometimes…
I am not ashamed to admit that I have been stuck in anger of late about many losses that have occurred around me and concerning the pain and difficulties of my own condition. No news or change of status has affected me more profoundly lately than that of "Coffee."
Huang Cui Xiang, Coffee's real name in print for the first time as I promised to protect her anonymity , was a saint long before she became ill–as you will read below.
I am reside emotionally and mentally in the hospital where I  saw her battling heat, pain and worry: She was not fretting about her disease, she was concerned about her studies. She had spread her school books on her bed and took every free moment she was not debilitated by chemotherapy to read her lessons. She was determined to graduate on time with her class.
That was two years ago. She carried her books up and down long flights of stairs (no place in China is well equipped for anyone handicapped) and developed a strong walk and great endurance despite an ill-fitted and heavy artificial leg. She took extra classes, enrolled in an off-campus French language translators course donated by one of her school's most caring foreign teachers, performed an internship at HSBC bank and did, as she intended, graduate with her peers.
The cancer fought back over the last two years and six months ago Coffee's cancer resurfaced  and she returned home to continue the fight. But in recent weeks the disease spread to her lungs and she was rendered unable to speak. She did text message several times.
Many people wanted to rescue her emotionally and, with good intentions, they would send her new cancer fighting recipes and words of wisdom and encouragement. Coffee, who was already resigned to the inevitable, simply replied, "It is too late for that."
Her last communication, just days before I had planned to visit her at her home in Yingde, China was simply, "Goodbye." She died last week. The message was Coffee's last lesson for me– and one she had been trying to teach all along with a smile on her face and never a bad word to be said about anyone or anything: Take life on life's terms and give your all to every moment of it in pursuit of something you cherish.
I know she is gone, and I accepted long ago Coffee might leave sooner than she should, but I am still angry. I am angry at myself for not doing more to help her, angry that I was not able to see her before she left and angry that I don't feel the world is a better place because she was here– Coffee was forced out much too soon…
Coffee, rest in the same peace you knew even in adversity.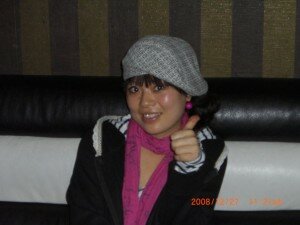 My first post after hearing of Coffee's illness:
I went to the hospital a few weeks ago to visit one of five of my students afflicted with cancer this last year. And my heart hurts since returning.
A former student called me to ask if I remembered another classmate nicknamed "Coffee." Of course I remembered the 1/500 treasure: A delightful girl with a fervor for learning, who had been a second year English major in the school where I taught. I try to remember most of my students, but Coffee was easy: She often emailed me with serious questions about cultural issues and after several meetings, at her request, we changed her English name to one, at the time, we thought better suited a Business English major. I later felt I was wrong and, unlike other students and associates that I address by their Chinese, I have never called Coffee by the new name I foisted on her.
And I remembered that pretty young Coffee came from a poor rural family and had an older brother and sister. It was this knowledge that especially dismayed me when I was told that she had been diagnosed with bone cancer. I knew instantly that not only would she suffer ostracism associated with being handicapped in China–It it is an enormous social burden that she would not be able to afford to lighten–but the costs would prevent treatment that could help minimize her disability in this difference-vigilant culture. Her father, aware of the same, took more than half a day to accede to the surgeons requests for a consent form to remove Coffee's leg. He thought it might be better to let Coffee die rather than face shunning for a disability.
It takes no special education to know there is shame and hardship ahead for his daughter and family. Please don't judge him harshly. He loves his daughter and has already invested his life's savings to see her through three years of college. He is back at home while Coffee's mother must pay a daily fee to maintain all an day and night vigil at the hospital. They live two hours and many, many years away from China's third largest metropolis.
The hospital was without air conditioning and in desperate need of paint and renovation, but I knew that even this questionable house of healing was more than she could afford. I met her mother, a woman who has obviously labored hundreds of long days under the sun, and immediately knew that finances were going to the biggest single factor in Coffee's treatment and recovery. And worse yet, the hospital's worn facade was a metaphor for the growing disparity between rich and poor in China that has enmeshed Coffee and her family–and just at a time when they had hoped to improve their station in life through school. The rich are living, and living well, while the poor are dying for want of health care. Coffee was smiling and genuinely optimistic during our meeting. She could already navigate, on crutches, the area from her bed to the common television alcove down the bleak corridor. Her leg was removed only two weeks ago, but Coffee is far ahead of the healing curve. I am told that Coffee attended class up until two days before her scheduled surgery and today she shared, in confident and relaxed English, that she intends to go back to college next semester even if it is during her chemotherapy. I believe her. The school, with no handicapped accessibility, no air conditioning, overcrowded dorms and mind-numbing class schedules, is all she thinks about. She will finish college even if her post-graduate chances for good paying work have been diminished. If I could have bottled one-tenth of one-percent of the courage that issued from her today I could sell it and fund a cure for her disease. But, the best anyone has been able to do so far is take up a collection for her at school: Her classmates, no better off financially, have raised about $600 USD for her care. She is still several thousand short of what she will need for a manageable new leg alone. It is with great sadness that I announce another courageous soul will join the League of Extraordinary Chinese Women. I gave that title to a group of women who met during chemotherapy and have intuitively done health and healing in the face of HER2 breast cancer with bravery and even laughter: they watch sunrise together, meet for tea and inspiration and helped each other through hard times with meager resources, but hopeful hearts.
Cancer Journal
,
China Cartoons
,
China Editorials
,
Digital Cavalry
,
The League of Extraordinary Chinese Women
,
The Unsinkable Ms Yue