The Elucidation of the Parlous Panjandrum
or
The Crock Theory
by Dr. Dave Garber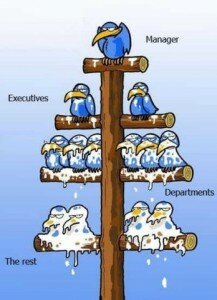 One might begin by asking, "What is a Parlous Panjandrum?"  (parlous being synonymous with dangerous and panjandrum being a high muck amuck.  One might describe a person holding high office in a bureaucracy as a Parlous Panjandrum if the person's behavior fits the definition.
An evolutionary stage of the Parlous Panjandrum is the Sisyphean Wanderoo,  Let me explain the roots of the term "Sisyphean Wanderoo."   Sisyphean means like Sisyphus, who was a character in Greek mythology.  In Webster's, Sisyphus is described as follows: "A son of Aeolus and ruler of Corinth, noted for his trickery: he was punished in Tartarus by being compelled to roll a stone to the top of a slope, the stone always escaping him and rolling down again."  Sisyphean is used to refer to an endless and unavailing labor or task.  A wanderoo is a monkey or langur found in India and Ceylon — most of whom have bright red or purple butts.  The name wanderoo seemed to go well with Sisyphean and conveyed a graphic image of someone who is working very hard and not really accomplishing his/her objectives.  The Parlous Panjandrum generally does not remember being a Sisyphean Wanderoo.  Whence then the Crock Theory?
If one approaches a low level worker in any number of bureaucratic organizations, to include: government, the military, the academy, or business and ask him/her to briefly to describe the nature of the organization a common response will be "It is a crock of ……(fill in the blank)"  (This response will not generally come from the novitiate who, for a period of time, accepts the view of the organization presented in the organization's indoctrination.)
A prevailing myth in bureaucratic organizations is that as one moves up the hierarchy one becomes increasingly free.  The assumption here is that when one can order others about and control one's own schedule, that this represents organizational freedom. In fact as one moves up in an organization one becomes increasingly bound by organizational constraints that limit one's objective view of the organization, to say nothing of freedom of speech.  In fact, organizational freedom is more accurately defined as the ability to see the true characteristics of the organization and to comment there on.  Thus those at the lower levels are free to see the organization for what it is, and to comment about it.  They see that it's a "Crock" and can say that it's a "Crock."  In fact they go about knowing and saying with impunity.
With time and promotion in the organization the previously free individual becomes less and less able to openly say that it's a Crock.  Frequently these workers become "closet "Crock" sayers."  That is they go into a closet before work and say: "It's a "Crock", It's a "Crock."  They then go to work and act and speak as if it is not a "Crock."
With time and promotion the Closet "Crock" Sayer's memory fades and he/she forgets that it's a crock.   This occurs around the time the individual becomes a "middle manager."  Many individuals become truly dangerous (parlous) at this point because they take the organization very seriously and fail to see the humor that infuses all organizations.
Having forgotten that it's a Crock, upward mobility subjects the individual to a strange metamorphosis — He/She becomes a "Crock."  Less you despair, the problem with bureaucratic organizations is not that "Crocks" top them.  There are all types of Crocks: Plain "Crocks", Fancy "Crocks", "Crocks" with tops and "Crocks" with handles, to name a few.  The problem is with the "Cracked Crock."  This problem is related to the contents of "Crocks."  For it has been axiomatic since Isaac Newton that: "S— runs down hill."
Dave Garber
—–
My first "real job" was working with a group of developmentally disabled girls. Severely handicapped teens with autism, Downs Syndrome, seizure disorders and more… It remains the toughest job I ever performed. I took the job as I waited to enter the military as a Medic and Social Work Psychology Procedures Specialist. The doctoral students in charge of the program were writing their dissertations in a new an exciting field: Applied Behavioral Analysis or "Behavior Mod" as it was known at the time. I volunteered to help them norm a self-paced course meant to train doctoral students at the University of North Carolina.
Serendipity brought me to the US Academy of Health Sciences after basic training.  The faculty Learning Theory and Behavior Modification instructor, a draftee , was about to leave the service. I was all of 19-yrs old,so my knowledge of Skinnerian principles of behavior stunned the staff and caused not a little doubt about my ability to teach in a Health Sciences School where war hardened vets were returning to be reclassified from combat jobs after tough tours in Vietnam. After two mandatory graduate classes in teaching techniques and examination methods and a trial class examination I was reluctantly brought on to the faculty. I was easily the youngest and least educated staff member and as a result endured more hazing than an Animal House inductee. Even without a degree, our cooperation with Baylor University soon landed me the august title, "assistant instructor" and then later instructor. It was the beginning of a long love affair with academics.
Major Dave Garber was my first and only boss at Ft. Sam Houston. He had a doctorate in Social Work and was a benevolent patriarchal figure to a rag-tag bunch of belligerent and far too intelligent enlisted draftees. We made the cast of M.A.S.H. look like a spit-and-polish outfit. Professor Potter, uh, Garber, who went on to become a full Colonel and the Army's Chief Social Work Consultant was likely the only man alive with patience and humor enough to guide our department through the last days Vietnam and a fast changing and demoralized cast of military misfits. With better equipment and facilities than colleges have even today, we not only trained the military's counselors, doctors, nurses and allied health care professionals, we literally wrote the book on Behavioral Science for the military, conducted POW family adjustment research, supervised interns in the Army's burn center, authored computer assisted instruction material, made training videos used by service schools, and supervised interns in child guidance/abuse clinics and drug and alcohol centers. Dave often said, in years that followed that we "could do it all" and I am guessing we could have.
My peers went on to careers as Teachers, Career Military Officers, College Academics, Psychologists, Dentists Social Workers and more. It was a talented group….
This 19-year old would never have made it through without Dr. Garber. He never raised his voice to me when he found his name tag one day switched to read "Garbage," and only once had to gently inform me that my signing out of the school for hours at a time for "PT"  was meant to be Physical Training, not Personal Time. And I was admonished, not demoted, for rewiring the non-commissioned chief's phone to operate upside down and for filing lunch in his desk under the names of its parts: "Banana, Tuna Sandwich and so on…
He consoled me when I couldn't handle working with trauma cases as I was not far removed from my own troubled teen years: a father lost to Vietnam and a mother claimed by grief. He encouraged my involvement in theater and turned a blind eye to my participation in professional stage productions in San Antonio even when it cost me the honor graduate position in my own class.  In return for his sage wisdom and generosity he received world-class teaching, serious and lasting research and healing clinical returns from all of us on his team.
The original Crock Theory was written by Dave and another faculty member while I was there. It reflects the wisdom, sobriety and keen, acerbic wit of the man who tamed and a group that otherwise would have surely landed in some stockade. The Army was rife with cracked crocks, but Dave wasn't one of them.
Thank you Dave for allowing me to reprint this here and for staying in touch on Facebook and elsewhere. Thank you Professor for being a role model for all I have positively achieved as a teacher. Thank you Colonel for being a real leader.
A salute, and a warm hug for all you have accomplished yourself and through those of us you led to success.
cartoons
,
Entertainment
,
Heartsongs
,
Humor
,
Personal Notes
,
US Army
,
US Army
,
Veterans
,
Vietnam