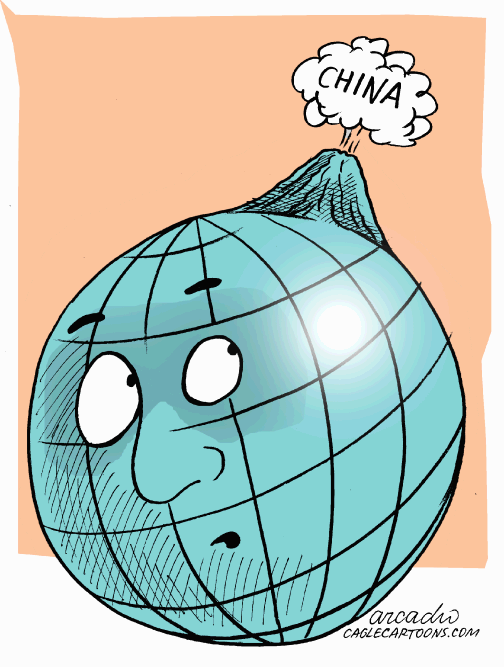 An open letter to my students:
Two men recently completed a controversial recreation of Mao's Long March. At every point along the march, people stared at them and puzzled over their purpose. On one particular occasion, a rural farmer walked up to the travellers and asked, "are you here to do a monkey show?" The historian-marchers, having long ago tired of explaining their journey, wearily assented. "Oh," the farmer replied. "So…where are the monkeys?"
One of my colleagues (your teacher) a year ago told me that there were two types of expatriate educators in China: performing and non-performing monkeys. It was his feeling that neither administration nor the student body understood any of the reasons he elected to remain in China as a teacher.
Any of you who have been my students in the past two years have seen the movie Cinderella Man. Many of you remember two of the questions I asked following the movie: who would you most like to be in the movie, and who do you think I would most like to be? A few of you knew immediately what my answer would be. It's the same answer I would expect from anyone who has devoted their life to pedagogy. Some of you wanted to Jim Braddock, champion of the world, devoted parent, and courageous cum-victorious underdog. Others of you would be happy being the rich, yet hardly kind, fight promoter. And a small group of you were comfortable, as I was, picking Jimmy's trainer as our role model.
I've been fortunate enough to have great successes in my life, but my greatest pleasure comes from seeing any one of my students succeed emotionally, personally, financially, or professionally.
Some doomsayers think that China's spectacular growth is a fairy tale and doomed to a tragic end. If I believed that, I wouldn't be here. But I believe that some of your notions about education, teachers, and Western culture must change or this will be a very short chapter in book 4,000 years in the making.
Many of you know that my expectations of you in class are different than some other foreign experts. I expect you, for the short time you are in my classroom, to behave as though you were a guest in a foreign country. I expect you to rehearse new patterns of behavior and to make a paradigm shift in your thinking about business and culture in order make to more effective global citizens and international businessmen.
I returned this week from a vacation of sorts, as I spent most of it reading and researching Chinese history and culture in order to better integrate myself into this society and to become a better teacher.
I can probably never expect to be more than a shengren, an outsider who one day you may come to know and trust as more than just an acquaintance. I know that I already view many of you as shuren, or as zijiren, special people for whom I will always have a place in my heart, and for whom I will always make time should you need me.
Here are some of the things I learned:
I learned that if your country's explosive growth continues at its current rate for the next 28 years, your economy will be as large as that of the United States. While this sounds impressive, the reality is that you will still have only one quarter the spending power per capita at that time as your counterparts in America.
Your country, as estimated by UNESCO, will be 20 million college seats short of its needs by 2020.
In fields like engineering, only ten percent of your current college graduates, because of a lack of resources (including high-quality foreign teachers) and an advanced curriculum, will be able to compete with their global contemporaries.
China invests seven dollars of research and development money for a return of one dollar in new production output. Conversely, America's ratio is one to one.
Your economy has doubled in size every six years, and 250 million people have been pulled up out of poverty. You have the second largest foreign reserves in the world. You made 25% of the world's televisions, 60% of the world's bicycles, and 50% of the world's shoes and cameras.
Sun Zi's 36 strategies have served you well to this point. You have used offensive, defensive, and deceptive strategies to create the most enviable economy in the world. But to sustain your growth, you will need better knowledge of your enemy. As you know, Sun Zi said,
"Know your enemy, know yourself, and you can fight 100 battles with no danger of defeat. When you are ignorant of the enemy but know yourself, the chances of winning and losing are equal. If you know neither your enemy nor yourself, you are bound to perish in every battle."
Business is war. Were I still a military man, I might be guilty of giving aid and comfort to the enemy. It is my bounden duty to prepare you for battles in negotiation, acculturation, and professional assimilation. To further drag out this metaphor, I am the training officer who will ultimately be responsible for your campaign successes and failures.
For me, statistical data like that above isn't much more informative than astrology in that it instructs you in what you can and should avoid. You can change a timeline that hasn't yet been drawn.
I'm neither a performing monkey nor do I have a troupe of them for your enjoyment. I'm a teacher and a foreign who spends nearly 24 hours, seven days a week learning about and adapting to a China I've come to love dearly. All that is asked of you is that you honor my commitment and the commitment of other foreign teachers who take their jobs and their place in this society seriously. On one hand, a few hours a week against the rest of your life is a small sacrifice if you learn nothing. On the other hand, if it creates in you a kind of mental muscle memory that secures your position in even one future negotiation, it was time well spent.
With congratulations to recent graduates. I will always try be your cornerman.
American Professor in China
,
China Business
,
China Business Consultant
,
China Cartoons
,
China Expat
,
China Expats
,
Chinese Education
,
Chinese Internet
,
Chinese Proverbs
,
Chinglish
,
Confucius Slept Here
,
Expats
,
Guangzhou
,
Guangzhou China
,
Heartsongs
,
Intercultural Issues
,
Internet marketing China
,
Macau University of Science and Technology
,
past posts
,
Personal Notes
,
Teaching in China
,
The Great Wall
2 responses so far