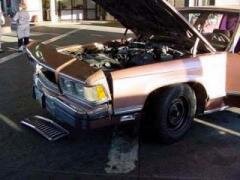 Customs arrested a Mexican man for allegedly trying to smuggle a Chinese woman into the U.S. by hiding her inside a car's engine compartment.
Is the irony lost on anyone here?
According to an NBC News site "Officers removed the grill and said they found a Chinese woman lying in a non-factory compartment of the engine. Is there a FACTORY compartment?! She was freed and transported to a local medical facility.The driver was charged with alien smuggling and transported to the Imperial County Jail. The woman is now being held by CBP as a material witness for the prosecution.Officials said this is the second failed attempt in a week of someone allegedly trying to smuggle Chinese migrants inside an engine compartment.Last Thursday, CBP officers at the downtown port discovered two Chinese men hidden within the engine of a Chevrolet pickup truck. The driver, a 28-year-old Mexican male from Brawley, was arrested.
China Editorials
,
In the news
,
Just Plain Strange
No responses yet