English majors studying for various degrees within the Guangdong University of Foreign Studies performed four dramas last night. This year the 11th annual contest, for the first time in its proud history, braved the use of contemporary plays, condensed into 23-minute masterpieces by the students, most of whom had no prior theatrical experience at any level. To add an extra challenge, they employed peers as dubbers who spoke every character's lines in perfect synch' with onstage cast counterparts. They built sets, designed and tailored costumes, researched and applied their own make-up, rehearsed the shows wherever they could find space for groups of 10-16 and did all of this while attending the usual Chinese course load of 30-35 hours of class. –all this just prior to final semester examinations.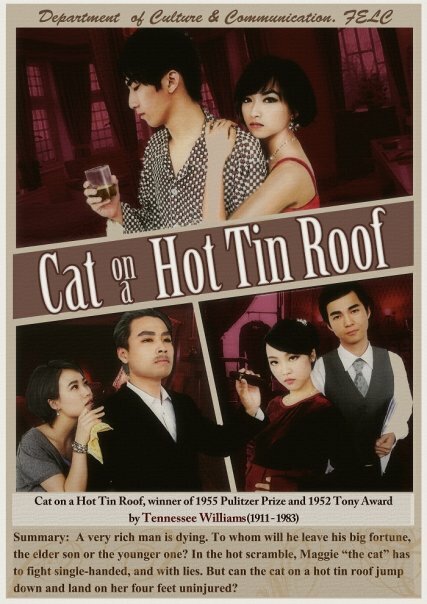 The plays were all sober American classics: Cat on a Hot Tin Roof; Desire Under the Elms; Madame Butterfly; and the not literally sober, Who's Afraid of Virginia Wolf. The writers had done their homework and rendered the essence of each play accessible, understandable and moving and with a flair I have not seen to date in Chinese or American students–and I have had the honor to judge speech and drama contests at countless provincial and national competitions in Asia and the U.S.. And the brief, but creative, humor-filled curtain calls that lent laughter and reprieve to a heavy night were extraordinary (Brevity is the soul of wit). And the show was emceed by beautifully articulate and professionally poised undergraduates who did not seem a bit intimidated by the thousands of their peers and  the resident and visiting VIPs in attendance.

Madame Butterfly
I left wanting to write an open letter to the leadership at China's top companies to tell them that they are fishing in the wrong waters for talent–they usually interview at schools with prestigious names–and that they should drop more than one line in the provincial pond at 广外 "Guangwai" University. No other school, out of the dozens I have visited, has been as rife with risk-taking enthusiasm, project management skills and enviable language and cultural strength. This campus would be first on my list of places to catch self-starters who have the the traits I would seek  in an employee: motivation, hunger and the ability to putin to practice, and into in cultural context what they have, and will, learn.
This is not a post about me, but you have to know that I have some authority, albeit limited,  to pour out praise: I have a room full of trophies from my years as a debater and interpreter of drama in High School and in College on a Presidential debate scholarship; I have taught college dramatic literature classes;  I have written and produced two plays;  I have founded three theater companies two of which are still in production; I have acted on stage in in film in over thirty professional productions and have been a stage director for everything from dinner fare to modern opera with the San Antonio Symphony, once winning me a grant from the Texas Commission on the Arts and Humanities that allowed me to study and socialize for a month with  directors like Morton DeCosta (Broadway and film director of Music Man and Mame), Douglas Turner Ward (Director of the Negro Ensemble Company and Ceremonies in Dark Old Men), Joseph Chaiken (author of On Becoming an Actor and director of the Open Theater), Peter Weir (Dead Poets Society..)…
The students were infinite in faculty, noble, brave and wonderfully advanced in linguistic and dramatic skills considering their level of training. I am proud and humbled to have been a part of a great work that many, like me, will long remember….
Uncategorized
2 responses so far