A few weeks ago I was in magical Guanxi province to visit with the the unbreakable Chun Li. During my visit I had, not one, but two fillings, put in during my time in the military, decide to abandon their posts–one on either side of my mouth. I went on a sudden food fast because it was impossible to eat. With several days left before I could leave Yangshuo for Guangzhou I headed straight to the local hospital. Everyone there was friendly enough. The dentist had her grandson assisting.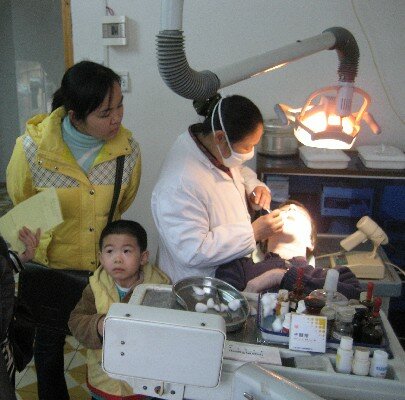 The Dental Clinic was on the second floor and all you had to do to find it was follow the smell of the bathroom, sans doors, next to my treatment room.

The franken-lab tools and mixtures did not bother me nearly as much as having to rinse and then spit into a tiny trash can. I am not nearly as accurate at expectorating as the average Chinese, so I ended the session looking as though my sleeves had been been mauled by a St. Bernard.
So, the old joke goes:
Q: Why did the guru refuse Novacaine when he went to his dentist?
A: He wanted to transcend dental medication.
Sorry…
Well, I did not get the option of Novacaine. For the 70 Yuan ( $8.40) the visit cost me I had to make due with clove oil built into the filling material.
I still have horribly minty fresh breath and everything tastes like an Easter ham.
And no, I don't know the onlooker here: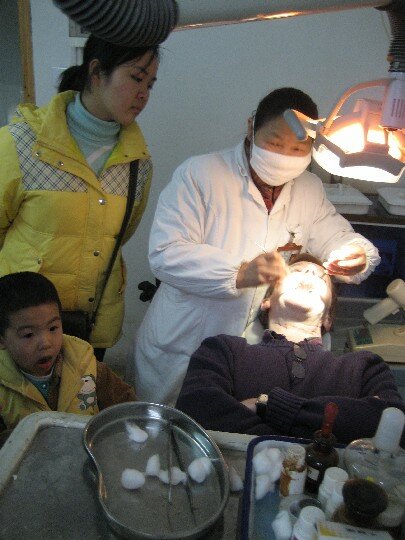 And yes, I am feeling much better now: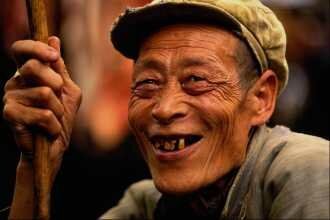 Photos by Ms Bolly
Asia
,
China Expats
,
China Humor
,
China Photos
,
Chinese Medicine
,
Confucius Slept Here
,
Humor
,
Intercultural Issues
,
Personal Notes
,
Photos
,
Travel in China
,
Yangshuo China
,
中国
4 responses so far