The weather widget on my Mac says it is 97 degrees here in Guangzhou, but "feels like 107." Who writes their copy? I think it would be a lot more descriptive, and accurate, to say: "97, but feels like you are clothed snorkeling in a sauna." It has rained daily and the humidity is malleable. But, somehow I think we in Guangzhou have it better than the folks in Anhui and other areas experiencing torrential rains and home-destroying floods.
Guangdong residents have found a bizarre pot of gold at the end of the intermittent rainbows: Rats! They are being brought in by the truck-load especially from central China, where 2 billion of them (did someone really count?) were displaced when a lake flooded.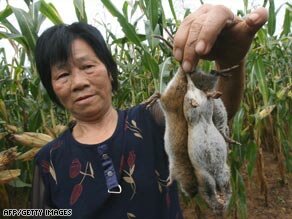 The reason for jubilation?: "Rat Banquets!!" Rat vendors (I am in the market for one of their business cards) are making huge money on the fabled eating habits of the Cantonese. I have lived here long enough to attest that it is not a myth when they claim these folks will eat anything that does not eat them first, or objects that they have to fly in or sit on…
The rats, reportedly NOT the bad bug-ridden rascals from Hunan where they are part of a crop-destroying plague, go for about 75 cents US for a kilogram to the buyers and fetch about $18 USD in the restaurants. The rat-catchers near the lake can haul in 150 KG a night and make about $10.00 USD. That is pretty good money in central China.
The oddest part–if there can be any quantifying– of the CNN story is that this new wave of furry fare is plentiful, not because of the lake, but due a lack of critter-chasing snakes and owls that the Cantonese love to include in their food and medicine.
Joyful Guangzhou netizens are now posting rat recipes on their blogs.
Yum.
P.S. Speaking of Guangzhou: Here is a site with some amazing 3-D maps of "home"…
Asia
,
China Business
,
China Editorials
,
China Photos
,
Chinese Internet
,
Chinese Medicine
,
Guangzhou
,
Guangzhou China
,
In the news
,
Intercultural Issues
,
Just Plain Strange
,
Photos
,
The Internet
,
Travel in China
,
Weird China
,
中国
,
中文
No responses yet