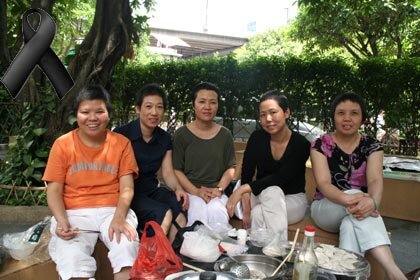 The original League lost one more extraordinary woman this week. Ms. 珍 (Zhen) , first from the right, succumbed to breast cancer that spread to her liver for want of appropriate treatment. (There is a still a way to help and it doesn't cost you anything*)
The unsinkable Ms. Yue is the remaining survivor of her chemotherapy group. None of the women to date have been able to raise the funds needed to acquire the very expensive drug Herceptin needed for a chance of staving off the disease. It is the only available agent that can treat HER2 breast cancer in early and late stage development, butverg wholesale runs $45,000 for a course of therapy–more than ten years worth of an average teacher's salry in China. This blog has raised only a fraction of the monies needed for these brave ladies.
I was given great life lessons by Ms Zhen, woman who remained ever positive about her chances for recovery. I have no doubt that she survived long past expectations because of her zeal for life, the friendship of the other League members and Chinese traditional medicine combined with what western medicine she could afford.
Ms Zhen, a victim of cancer and an ailing health system in China, leaves behind a loving husband, a boy 14 years old and a girl now 19 year of age.
In memoriam Onemanbandwidth and The Dreamblogue will not post new entries for the next three days.
China Chinese Women Cancer Cancer Treatment Roche Breast Cancer Women Lonnie Hodge Cancer Treatment Hercpetin
*Head over to http://blogofdreams.com and favorite the blog in Technorati and also lin to the trip. It takes five minutes and the right people benefit.
Asian Women
,
Cancer Journal
,
Charity in China
,
China Photos
,
Chinese Medicine
,
Human Rights
,
Personal Notes
,
The League of Extraordinary Chinese Women
,
The Unsinkable Ms Yue
,
中国
2 responses so far