They opened a pawnshop near my apartment building this week. I had an immediate visceral reaction to the sign that gives them what I think to be only the illusion of mercantile legitimacy. I have always found them to be sad repositories, museums of familial totems earned, won, or created by previous owners and then sacrificed. In this weakening world economy pawnshops are themselves heraldic emblems of societal failure and loss.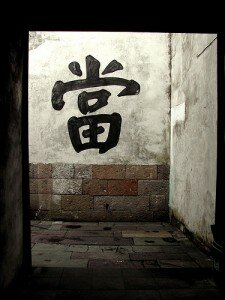 Having come from a poor military family (many of us lived far below the poverty line in the 60's and 70's) I know well what it is to watch your father sell a year's worth of $25 dollar savings bonds, for pennies on the dollar, to pay off a gambling debt so there would be food to eat. I can still feel the anguish my mother's face refused to show when we had to hawk what few heirlooms we had left—the few that survived an earlier tidal wave in Hawaii—to a cagey German national who had set up shop near our housing complex in Frankfurt to prey on enlisted men and their families. I witnessed many of my friends surrender personal property and pride for all manner of reasons.
Yesterday, on the micro-blogging site Twitter, Jeremiah Owyang wrote something to the effect that those who need to tout their importance on the Internet may not be nearly as powerful as they purport to be…. Now that there are new online measurement tools that can allegedly rank an individual's influence within a particular social network and give credence to new status many proudly advertise their standing, The developers use varied formulas, but all give a great deal of weight to the number of followers a person has and how much "reach" their down-line possesses; hence, many members of communities spent countless hours collecting new 'friends", employing automated recruitment software, and verbally cuddling, poking, hugging or prodding others to include them in perceived circles of influence. Users pawn their time and, in some cases, their true persona, in an attempt to gain some measure of virtual worth in the form of a numerical representation or a percentile ranking. I am competitive and love nothing more than a good fight and, better yet, a win. But, I don't consider social networks a sport. They are weapons of mass construction (sorry) in the hands of capable leaders and pawn shops for one's humility and integrity in the worst of cases.
In the military, where I spent eight years of my early adulthood, we often said: Lead, follow, or get the hell out of the way! Seth Godin in his well-written new book Tribes more politely calls on those in conversational communities to lead their followers toward their passion for connection, education, causes, business, politics, social good and other common interests. He sees the immense potential for change in networks like Facebook, Friendfeed, Xing, Twitter and the like and has penned a structurally sound and reasonably idealistic (they are not contradictory terms) blueprint for leadership.
I am a teacher; that makes me, not so much a leader as it does a conduit, through which leaders can speak, albeit with my voice. The real value for anyone choosing to follow me is that I try to pass on the best of what I read and learned from the many thought leaders I am privileged to know or have met during my 30 years of encounters with social media. Don't get me wrong: It is also a place of instant feedback and communication and often great fun I think the Twitter commentary on the opening and closing ceremonies of the Beijing Olympics, written by a number of quick-witted and well-seasoned China Hands were as enjoyable as the event itself.
Most of my personal tweets or comments, ones that add little to public dialogue, are sent back to recognizable digerati/Twitterati in private. Many vapid tweets I see are saccharine and paw at community leaders in an attempt to gain favor. And the stars are not immune to a glamor shot and a few well-placed compliments it seems. But, of what community value is there in narcissistic displays of public affection?
I have spent the better part of the last five months paying back debts, monetary and relational, accrued after losing my way because I chose to take directions from people who mimicked (and continue to mimic) leadership well enough on the net that even I actually thought they knew the way out of the virtual forest. They were folks are who must imagine they will gather a crowd at their virtual funerals and be buried beneath a score of "growing gifts" spread on the casket. It profits a man nothing to give his soul for the whole world, but for Twitter?
Post Script:
I admit that Twitter has now practically replaced my RSS reader: I find more relevant, up to date news being sent by trusted sources there than anywhere else. I track multiple conversations on everything from education and the arts to Creative Commons and censorship. I pay close attention to the sage wisdom of the leaders of my tribes: @shelisrael the online professor of social media or his Aussie counterpart @deswalsh; the forward thinking enthusiasm of @pitchengine and Jason Kintzler's new social media pr tool; the strong prolific online working man's writing from @chrisbrogan;
the intelligent world meta-view of @rmack; the important grassroots realities of @globalvoices;
the enjoyable, raw energy and inexhaustible commitment to the web community of @loiclemeur; the heart-songs and charity of the Library Project's @tomstader; the spiritual thoughtfulness of @Meryl333; the cutting edge insights of @jowyang, @oliverdombey, @techcrunch, @dannysullivan, @brainsolis, @scobleizer, @danharris, @sioksiok, @wolfgroupasia, @kaiserkuo, @pdenlinger, @ganglu, @nuibi, @chinaherald, @gswafford, @pacificit, @igorthetroll, @flypig, @the busybrain and
dozens of others to whom I apologize for not them listing here….
China Humor
,
China SEO
,
China web 2.0
,
Chinese Internet
,
Personal Notes
,
中国
4 responses so far