It is not only the athletes warming up for the games: activist groups, the Chinese censorship squads, and extremists have all announced their plans to dominate the ceremonies.

Beijing has craw-fished on not just a few promises to the IOC, and the heavy spenders in media and advertising: They now say unfettered access meant that media could go to sites they thought journalists might need to call on in order to report a story. As widely reported, reporters the last two days have been unable to access many sites from the Press Headquarters-particularly those URLS that start with the letter "T". This has so flustered some writers that every glicth is now in quesiton: some have started blaming routinely dismal connection speeds on deliberate sabotougue by authorities. we who live here know that you can brew coffee and prepare lunch waiting for Facebook to load.
And Beijing, rather than retreat from the pressure or do anything to dispel doubts, has given credence to the clains by such bonehead activity as employing cartoon police that will appear on users screens and remind resident and visiting Netizens to behave themselves when surfing. That law enforcement figures will be peering at me through virtual doe-eyes psychologically frightens me even more than would the real soldiers of censorship that could appear at any time.
And outside of Beijing we hear from the gifted blogger Michael Manning, thankfully back at the keyboard on the Opposite End of China, and he gives voice to many doubts about the veracity of claims by a supposed militant group, The Turkistan Islamic Party. TIP has claimed responsibility for an unlikely number of deadly incidents in China in recent weeks, and they may or may not be just a PR creation dreamed up by Beijing to give license to ever more oppressive security measures against ethnic minorities in the Northwest. The Youtubed militants issued warnings and called for support from fellow Muslims to wreck havoc throughout china during the games.nAs suspect as the videos calling for Jihad looked and as incredible as the footage was of a device-making member of the Turkistan movement, the damage to the international psyche, already conditoned by the US administration to believe Islam itself is an enemy combatant, has been done.
I made light two days ago of the ticket thriller episode in Beijing this week because it did not live up its the media hype, but there is a lot to be concerned about and I stand solidly opposed to increasing acts of censorship, and I remain (even for what little good i can do)  staunchly behind jailed activists like Hu Jia who were silenced by imprisonment in advance of the games.
But, I am equally disappointed and frightened by the actions of organizations who, in my view, are inappropriately orchestrating  campaigns that, while raising their International profile, might be putting their recruits in harm's way.
Am-nasty International, who just backhanded Beijing for its human rights record today, is recruiting human shields to test ping sites they want to determine can be accessed or not by journalists:
"While you are in China, we will email you secret, anonymous links to the testing site (which don't connect directly to Amnesty's computers). The sites chosen for testing are ones which a tourist or journalist would feasibly want to access in China. Amnesty International believes that participating in these tests presents no risk to visitors to China." Does Australian Amnesty know that you have to surrender your passport to get into some iInternet bars, and that college servers usuallly block site access before the IP request makes it off campus? The data collected will be weak at best and at what potential cost? Is Amnesty Australia going to pay for bail, legal defense or a ticket home if the shills get deported?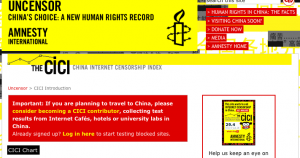 I am certain they know that they cannot guarantee the security of a routinely transmitted email (just ask the snitches at Yahoo). Hell, A.I. trusts people so much that the organizer of the Facebook cause for this initiative can't be contacted even though the pictures and profiles of her supporters can be fleshed out even if the users' privacy settings prohibit collection of information.
I visited several of the sites they want tested today. One reported a Senator's claim, on the front page, that Internet spying equipment was long ago installed in major hotels in Beijing beore the games. Maybe so–Cisco helped out with that on a country-wide basis years ago. The story was positioned near an article about a  former astronaut who claims to have been briefed by the US Government about UFO landings. Really.
There are better ways to do this. But, my past experience with Amnesty's procedures, once leaving a friend tortured and near death and signing false confessions just to remain alive while Amnesty passed on visiting him, but they sent a inquiry form instead thru his captors, has never struck me as particularly a well though out way to protect human rights. Why  doesn't AI  just poll the horde of reporters (25-30,000) actually using the equipment without soliciting volunteers to wind their computer signals around some secret decoder IP?  I would rather see an e-blast poll, post-games, than know some kid was stared down by a cartoon cop until the flesh and blood cyber-screws showed up.
Uncategorized
2 responses so far